First Pass!
Let's take a look at the LTR age data.
## # A tibble: 42,339 x 4
##    chrom    start      end     K2P
##    <chr>    <dbl>    <dbl>   <dbl>
##  1 LG_2  61204840 61212964 0.0202 
##  2 LG_2  61219360 61221366 0.0538 
##  3 LG_2  61236795 61241286 0.00514
##  4 LG_2  61241905 61249226 0.00100
##  5 LG_2  61268475 61269268 0.0808 
##  6 LG_2  61337049 61348048 0.00472
##  7 LG_2  61365365 61372328 0.0260 
##  8 LG_2  61382447 61389344 0.0617 
##  9 LG_2  61396331 61407449 0.00800
## 10 LG_2  61413022 61414052 0.0984 
## # … with 42,329 more rows
Some of the variable names are different (K2P is our measure of age) but are really familiar to the other data we've been analyzing (chrom instead of chromosome).
We know that our scatterplots have been useful for looking at patterns along chromosomes. Let's see if the LTR age data looks anything like our density data.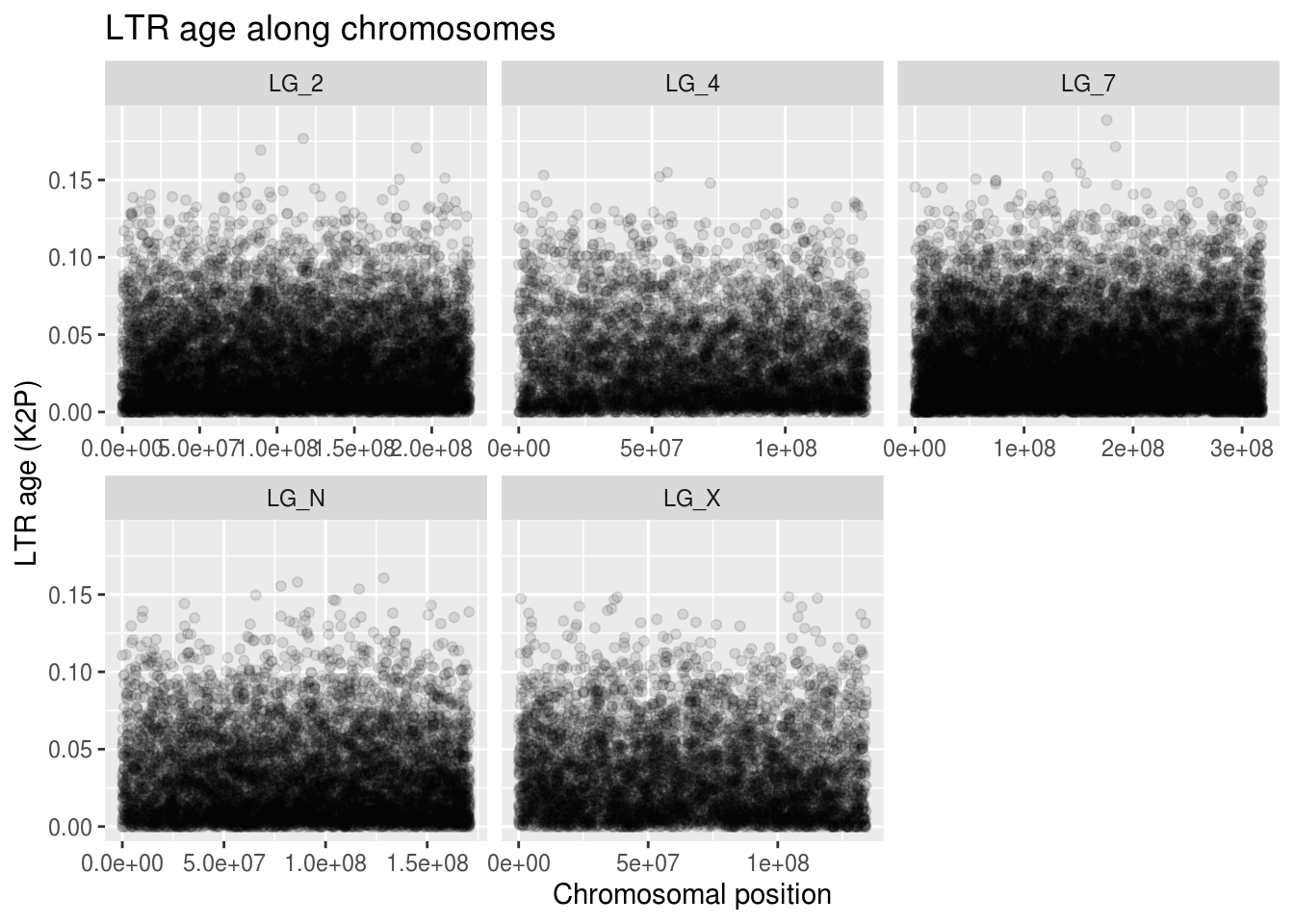 These clouds of points are really hard to understand. Thankfully, there's a ggplot feature we can use to better visualize trends in our scatterplot data: geom_smooth. It's essentially a trendline that we can plot on top of our scatterplot. The one argument we'll make note of right now is n, which tells geom_smooth how many points along the x it should be using to make its average. Because of how big our data is, we'll give it a smaller value so it doesn't take forever to plot.
## `geom_smooth()` using method = 'gam' and formula 'y ~ s(x, bs = "cs")'
Well, what can we take away from this visualization? Not much. But-but… we can't stop here!!
What do we notice about this plot? There are still just so many points. What if we separate TE ages into different categories? This wouldn't be appropriate for a statistical test because we can lose a lot of information when we go from a numerical variable to a categorical variable, but it might help us with visually understanding patterns in our data.
Discretizing our ages
Remember: don't do this without considering what data you're losing.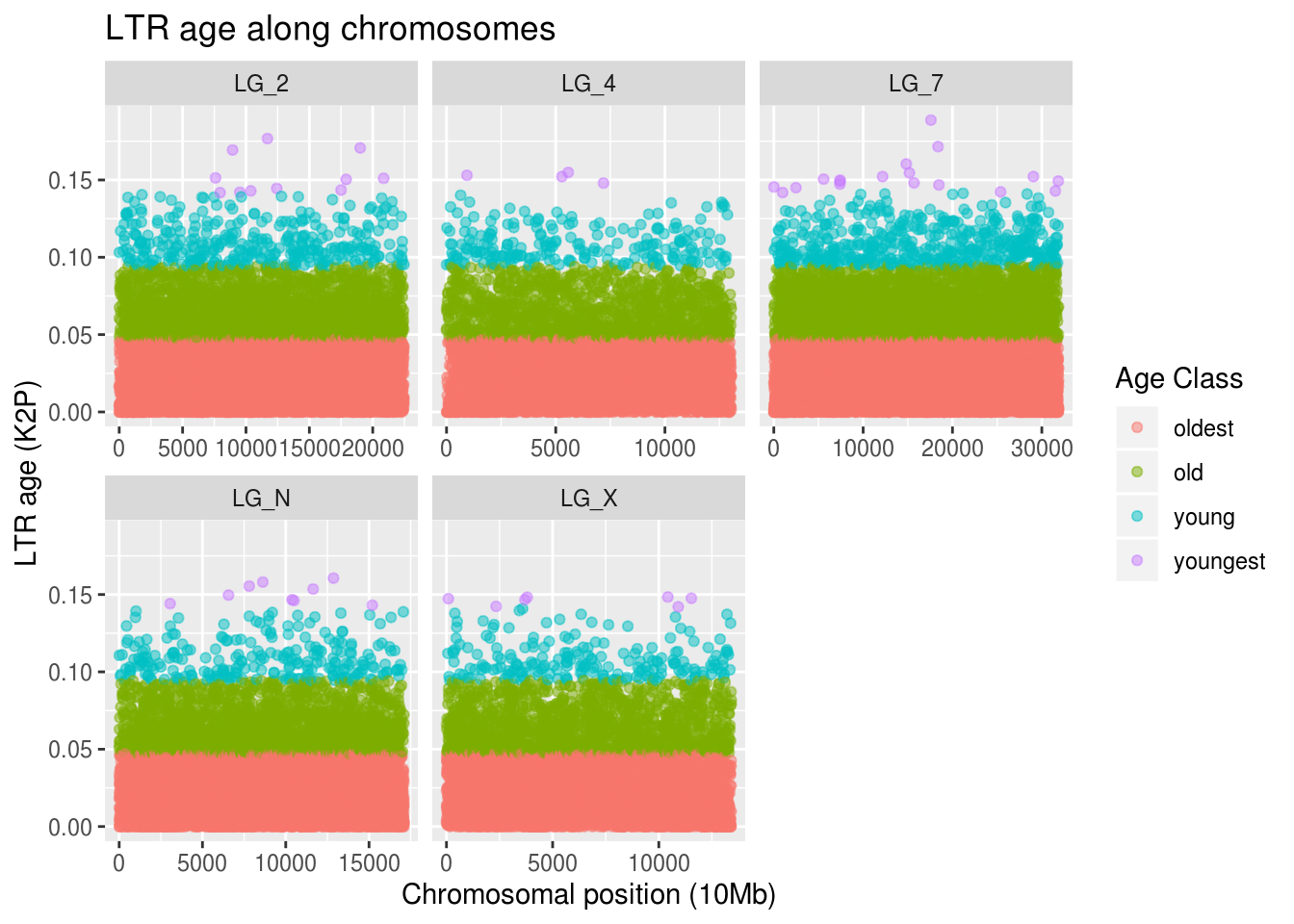 Wow. There are a lot of old LTRs. There are few young LTRs, but their positions match with the pattern of our overall TE density plot. The positions of the young LTRs aren't close to gene-dense regions on the autosomes, though interestingly there are a few on the right-hand side of LG_X, which was the most gene-dense region of our sex chormosome!
That was cool. Definitely not a statistical test of correlations between LTR age and gene density, but the fact that sub-sections of this data behave quite differently is really interesting to see!
There are cool sliding-window methods that allow you to see if your data does cluster into distinct sub-groups and how many sub-groups are appropriate. We won't get into it now, but just for FUN and future reference!
Missing values in gene density comparison
You might remember that in last lecture, when you encountered missing values in your data, you could replace them with 0. If we want to put our LTR age data into the same kind of windows that the gene density data is in, we're going to have some windows without any age data. Do you think that setting LTR age to 0 would be a good way to handle the windows with missing age data?
## # A tibble: 57,617 x 4
##    chromosome winNum density      age
##    <chr>       <dbl>   <dbl>    <dbl>
##  1 LG_N            1 0.00250  0.0122 
##  2 LG_N            2 0.00250  0.0508 
##  3 LG_N            3 0.0102   0.0181 
##  4 LG_N            4 0.0116   0.111  
##  5 LG_N            5 0.0116  NA      
##  6 LG_N            6 0.0116   0.0343 
##  7 LG_N            6 0.0116   0.00505
##  8 LG_N            7 0.0116   0.0277 
##  9 LG_N            8 0.0116   0.0318 
## 10 LG_N            9 0.0116   0.0629 
## # … with 57,607 more rows
Just for the record, this is not a great way to window data.
But! Look what happens when you change the join method! Got more missing data… Maybe it'll be easier to understand if we plot it.
## Warning: Removed 3 rows containing missing values (geom_point).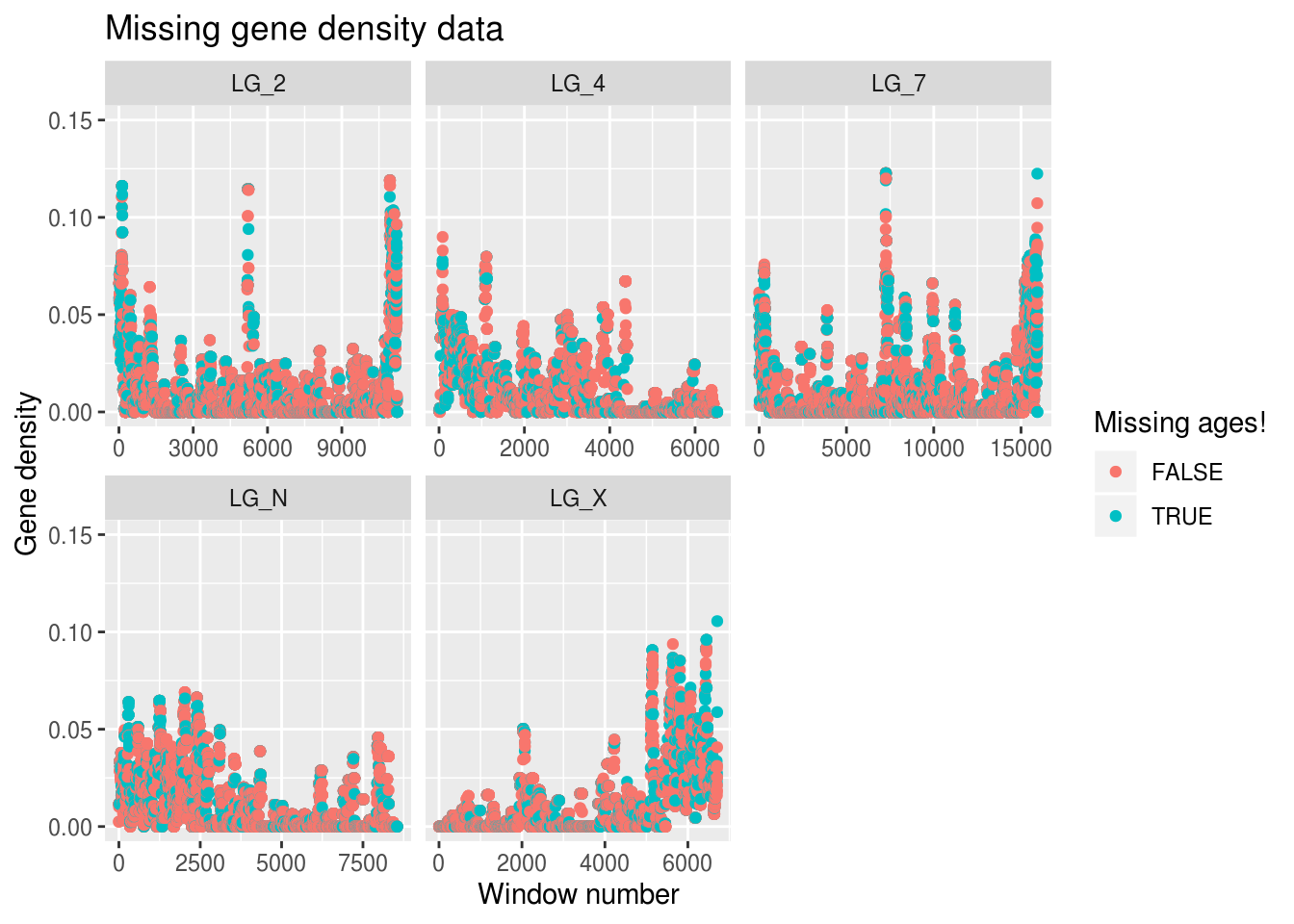 ## Warning: Removed 15278 rows containing missing values (geom_point).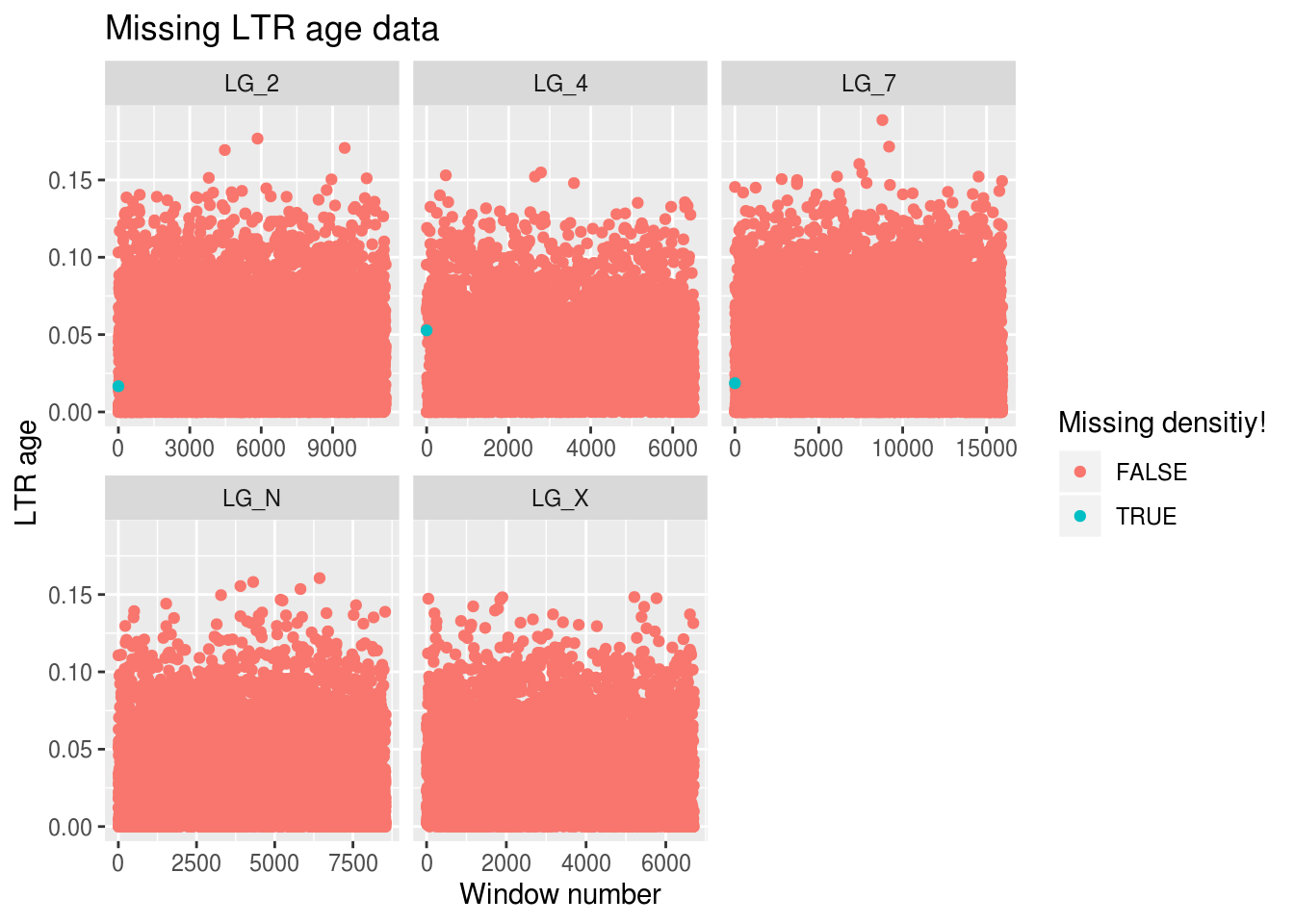 Ooph. We're only mising gene density data for 3 windows, but we're missing out on LTR age data for around 15k windows… Is there anything we can do about it?
Assigning a value of 0 to our LTR ages is asserting we have different data than we actually have: that we know there's an LTR in that position and that it's an incredibly recent insertion. But what if we replace the missing age points with the mean LTR age?
## [1] 0
## [1] 0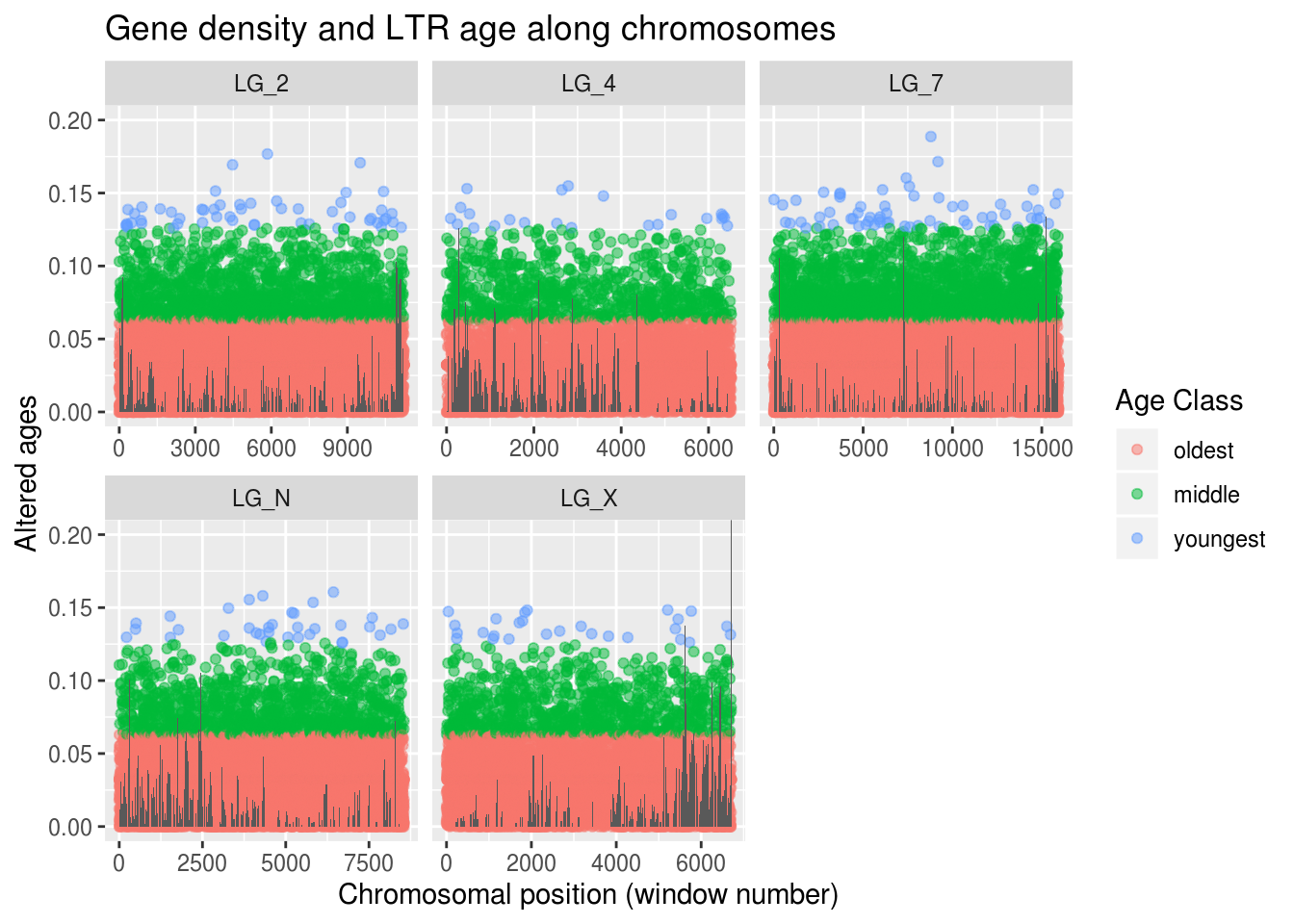 No more warnings about missing data! Woo! We can feel whole again! On the other hand, replacing these values didn't actually help us improve our understanding of our age-density prediction…
We should actually plot a window's LTR age against its gene density! First, let's look at the general pattern with the adjusted ages (when we replaced NA with the mean value for the variable).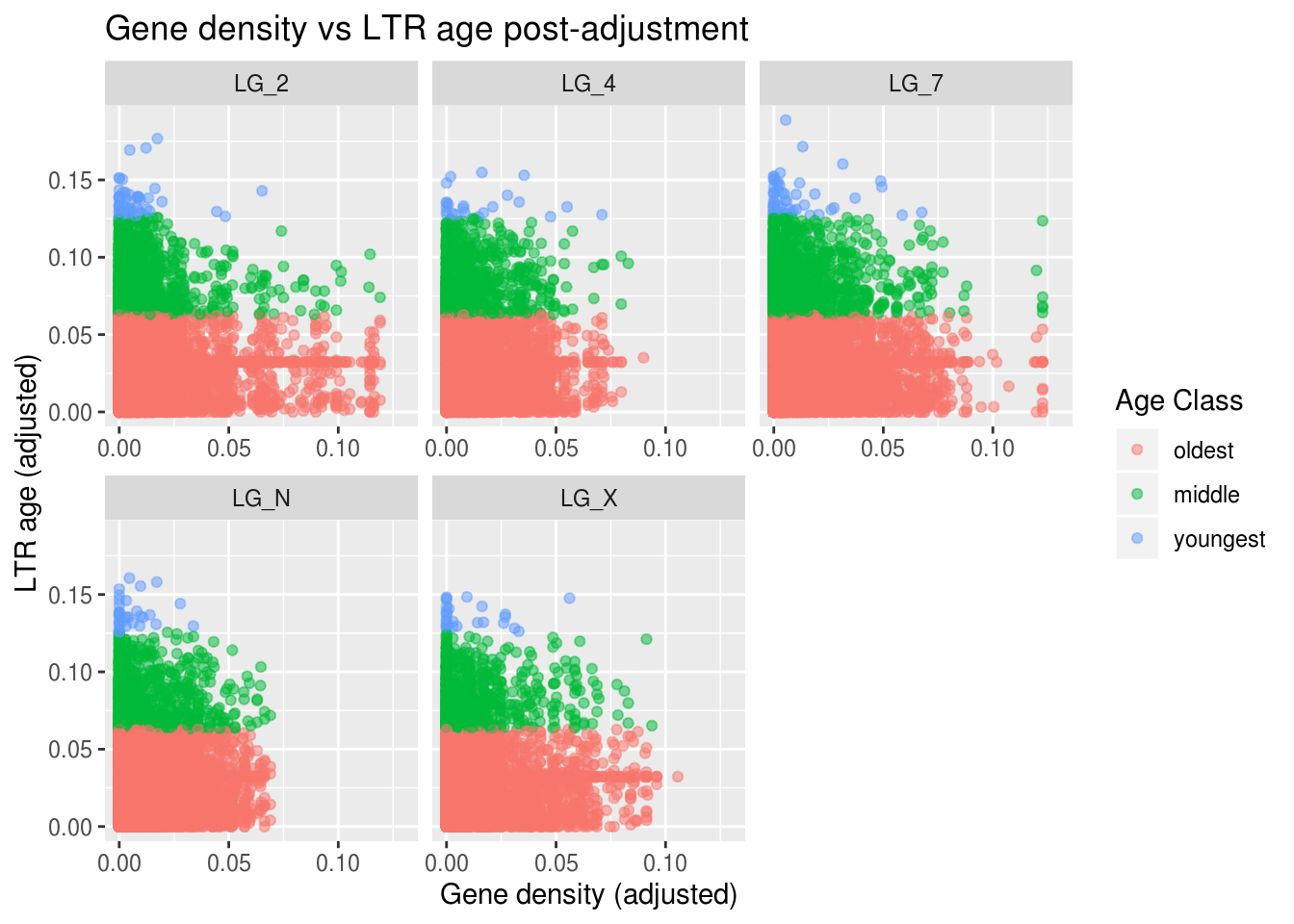 That's pretty dang cool! We do see a general downward trend - as gene density increases (going right along the X axis), LTR age tends to decrease! We can even see some interesting differences among the chromosomes.
LG_7 is our biggest chromosome and it seems to have a lot of the young (blue) LTRs. Why do you think that might be? Generally, as chromosome length increases, recombination rate decreases. Recombination rate is one of the properties we know correlates with the accessibility of genomic regions. So, we might predict that longer chromosomes have a larger proporiton of 'inactive' regions and a greater number of TEs.
Moving on!
Let's judge our past selves! Let's see the effects of our decision to replace the missing age data with an average. Was it foolish or as wise as the time we joined a dragon boat team?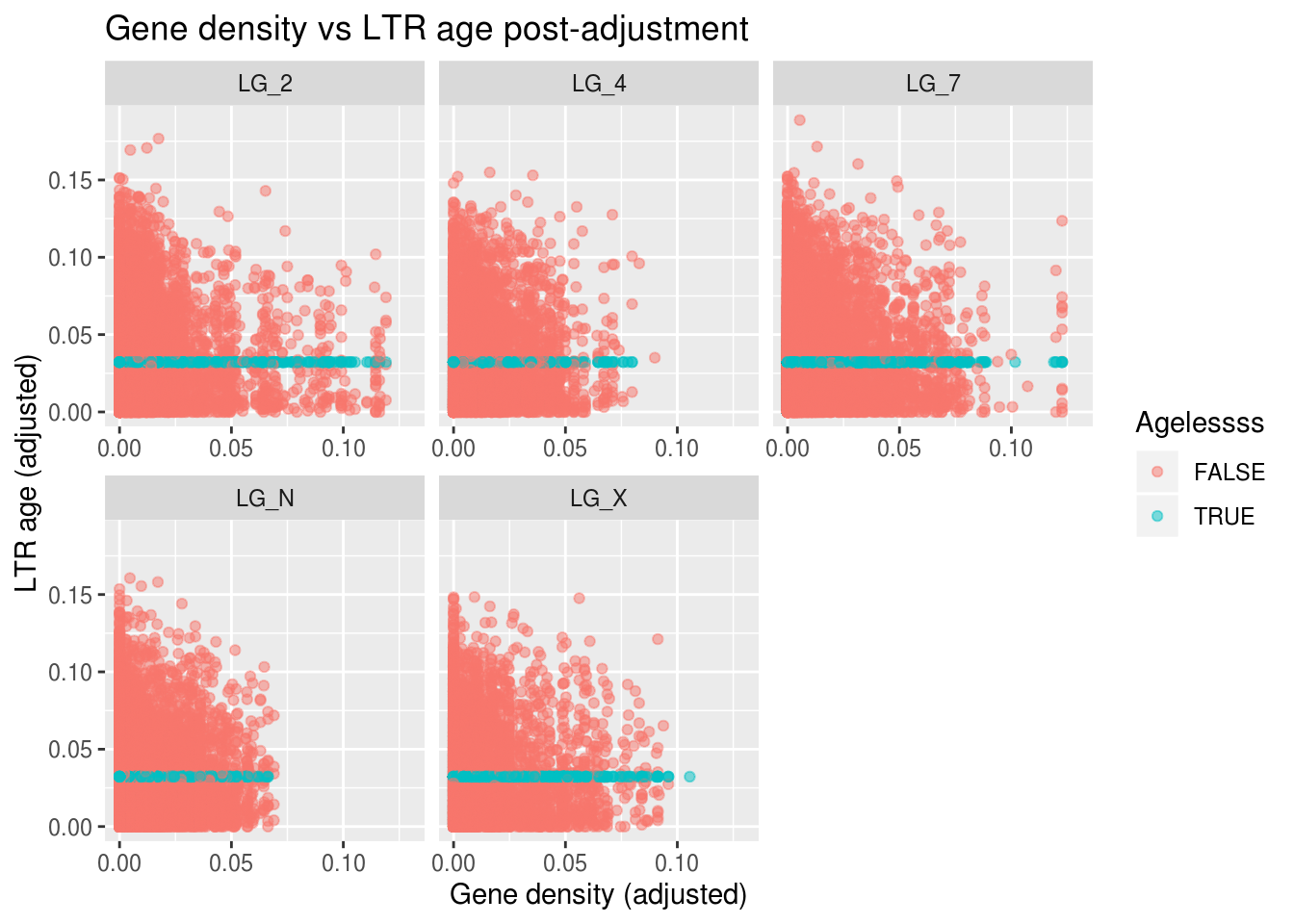 Not too bad! Not mechanistically motivated, but it does show that replacing missing data with the value we would expect (basically the definition of the mean) can have fewer consequences than replacing it with 0 in some contexts.