A short introduction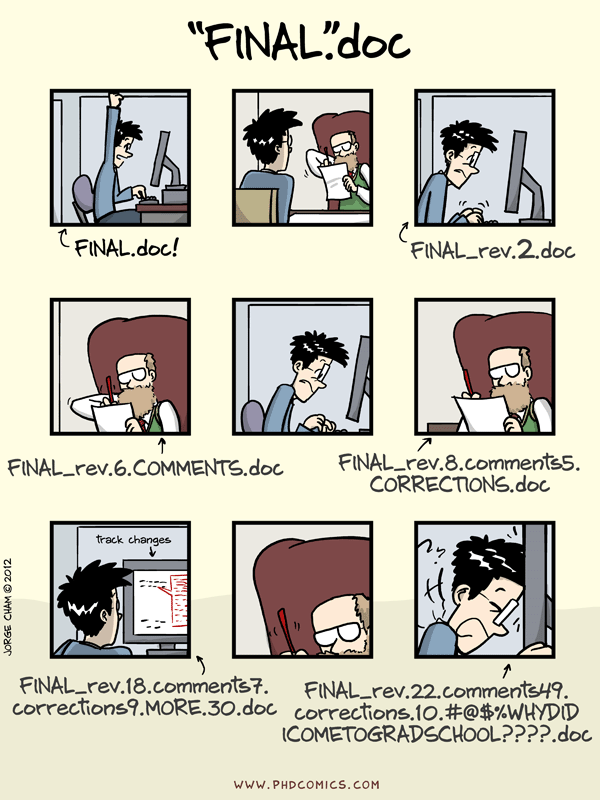 The comic above is teasing about prematurely naming your thesis "FINAL", but it also highlights a common method that many people use to keep track of different versions of their files. This method involves making a copy of a file, naming it differently from the original, and editing the contents of that new file, repeated as many times as to get the document finished. This is the basic concept of "version control", though quite primitive. More formal and structured methods of version control keep track of what exactly changed, when, and by whom (like how Google Docs). Git is one such system of version control. Git is specially powerful when your project involves more than just a single file or has any type of code or data involved.
Git is a software that keeps detailed tracking of your files and folders, keeping a history of exact characters that have been changed. It's very powerful, open source, and is very popular among software developers, programmers, R coders, and scientists. This is one of the main reasons why we will be learning Git, because it has this massive online community, support, and documentation. Git is especially powerful with collaborating on more complex projects (such as a research project).
Git works by using several commands to track files ('add'), save ('commit') them to history, check the 'status' of your folders and files (in a project/parent folder, called a 'repo'), and see the history (the 'log') of what was saved. You can do some much more advanced and powerful things in Git, but this lesson we'll focus on the basics (which you many only ever use).
Exercise
Follow the getting setup steps from command line:
Replace "Your Name", with, well, your first and last name. Replace the fake email address with the email address you normally use.
Confirm it works by running:
The basic commands of Git
There are a few commands that you will use regularly when you start using Git. In fact, you may never need to use more than this depending on what you do.
git add
git commit
git log
git status
For your final assignment, you will be using a few more commands that we will cover a bit in this lesson and much more next week.
git remote
git push
git pull
git checkout
git branch (maybe)
But first, let's focus on the first four basic commands.
git add tells Git to start 'tracking' or watching the file(s) you point to and put them into the 'staging area' (see the image below).
git commit tells Git to take the changes made to the files you select and save them into the history, moving files from the 'staging area' into the history.
git log shows you the history of your git repository (all the changes made to the files; this is all contained in the .git/ folder).
git status gives you a brief overview of what is going on in your git repository.
RStudio has an excellent Git interface, mainly for the basic things. However, for slightly more complicated things you will need to use the terminal. So we'll start by learning how to use the terminal, then switch to using the RStudio interface.
We'll go through the process of creating a Git repository (repo) and using the basic four commands during class.
Exercise
Create a new Markdown file called bio.md in the Git repo we created in class. Add your name and one or two sentence blurb about yourself. Using the command line, add this new file and commit to the history. Check the status and log.
GitHub and your project
GitHub is a commercial, Git repository hosting service. For public repositories, GitHub is free. (yeay open source!) GitHub is an extremely popular site for R packages, with many of the most popular and powerful packages all on there (all of the tidyverse packages are there, like dplyr and ggplot2). Your final assignment is also on GitHub. When collaborating on GitHub, generally you'll need to make a 'fork' of the original repository. In GitHub, a fork is a copy of the original repo. While you could make edits to the files in the GitHub repo using GitHub, its much faster to download ('clone') the repo onto your computer to edit there. The image below shows the different repos and their interactions. Because you are downloading ('cloning') your Forked GitHub repo, you need to tell your computer where to look for the fork and original GitHub repo. That's what the 'remote origin' (your fork) and 'remote upstream' (the original) mean. Git stores these links to the GitHub repos in these 'origin' and 'upstream' pointers.
We'll all make a fork of the team final assignment. Then we'll use git clone to download that repo onto your computer.
Exercise
Because we'll be using GitHub and the final assignment team repositories, you'll need to add something to your Git settings. Add this remote (link) to your Git repo of the final assignment: